ASHE Georgia is proud to announce the recipients of the 2022 Jim McGee Scholarship. The awards were presented at the September 2022 Luncheon.
Matthew Liu
A native of Norristown, Pennsylvania, Matthew is a senior at Georgia Tech majoring in Civil Engineering with a concentration in Transportation Systems. He expects to graduate in May 2023.
Matthew currently holds a 4.00 GPA… He was a recipient of the College of Engineering Honors Award. His studies at Georgia Tech have included undergraduate research in Data Analytics for Curve Crashes as well as quantifying the environmental benefits of streets that support multiple modes of travel. Matthew has also led and organized the Vertically Integrated Project: Bringing diversity to National Parks.
Matthew serves as the treasurer for the Georgia Chapter of ASCE, is a CEE Student Ambassador, and is also a Member of the ITE student chapter. In his free time, Matthew enjoys serving as the Journey Volleyball League Tournament organizer. He currently works with Wreck Tech to provide network support and software trouble shooting to Georgia Tech students
In the summer of 2021, Matthew was a roadway design intern at Moffett & Nichol in Midtown Atlanta where he assisted on GDOT projects. More recently, he just completed a summer internship with the Federal Highway Administration.
Matthew plans to pursue a Master's Degree in Transportation Systems engineering and aim for positions at public transportation agencies to ensure that his work is impactful and meaningful to the general public.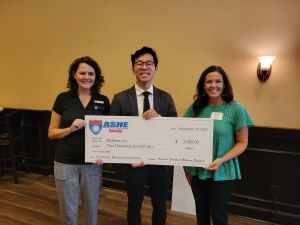 Alvin Chen
A native of China and permanent resident in Sarasota, Florida, Alvin is a senior at Georgia Tech majoring in Civil Engineering with a concentration in Transportation and Urban Planning, and he is pursuing a minor in Philosophy. He expects to graduate in May 2023. Alvin has previously attended the University of Florida and Florida State University – both on full academic scholarships.
Alvin currently holds a 3.86 GPA… He has been named five times to the Dean's List with distinction. He also served as an undergraduate researcher supporting curve safety.
Alvin is an active member of ASCE Georgia Tech Chapter and has served as the ASCE Co-Chair of Professional Development for the university of Florida Chapter. He has also received several ASCE awards including 1st place finishes in the Virtual City Design while serving as team captain, a Kaggle competition involving pavement raveling, and also in the Multimedia Math Challenge. He also placed 3rd in the ASCE Innovation Contest while serving as team captain. Alvin is involved in Effective Altruism, which focuses on ethical issues of artificial intelligence, and he has also volunteered as a high school math tutor.
This past summer, Alvin interned with the Georgia Department of Transportation working rotationally with three programs: roadway design, ITS, and Bicycle & Pedestrian Safety.
In the future, he hopes to work and study continuously for all modes of transportation to impact the industry with policies for the interests of the public.
Join Over
550 Transportation Professional Members

 in Georgia
Learn more about ASHE Georgia today.